"I think it's about time I talked about Kiss-Shot Acerola-Orion Heart-Under-Blade. I believe it's something that I have to do. I met her in the spring break between my second and third years of high school. That meeting was impactful, and also quite devastating. In any case, I thought I had really bad luck――of course, this probably wouldn't be the case if I wasn't there, but instead, someone else was in my shoes. Actually, I do think it's quite irresponsible to say that it was really bad luck that got me into this, and that maybe I should just accept that it was my fault entirely. In the end, I believe that my being there had started that chain of events."
Recently, the last volume of Bakemonogatari was released. The anime went through an unbelievable series of delays since its premiere last year which lead to the cancellation of its time-slot and shifting to web-streaming instead. Even though Shaft studio is an ass when it comes to deadlines, I forgive them for their high production value, and the immediate announcement of the prequel Kizumonogatari after the crazy sales of Bakemonogatari's last Blu-ray (which is partially due to their laziness and the poor quality of web-streaming, darn their good luck!).
Kiss-Shot Acerola-Orion Heart-Under-Blade, what kind of name is that?!
Kizumonogatari tells the story of Araragi Koyomi, the main character of Bakemonogatari. Just look at the synopsis taken from the original light novel at the beginning of the post. It gives a fairly good idea of how things run in kizumonogatari (as well as Bakemonogatari for that matter), which consist of freaking awesome dialogues with tons of wordplay, a variety of bizarre characters, and mind-stirring plot twists. Soon, or maybe not so soon *remembers the suffering days of wait for Bakemonogatari to finish ( >,>)*, we'll get the bonus of crystal-clear'n'fluid-like animation Studio Shaft has to offer as light is shed on the anime adaptation of the novel. What's more exciting to me is that Amazon.jp listed both Kizumonogatari and Nisemonogatari DVDs for release in January but then they were removed. That's still hinting at the release of Nisemonogatari, the sequel of Bakemonogatari telling the stories of Araragi Koyomi younger sisters!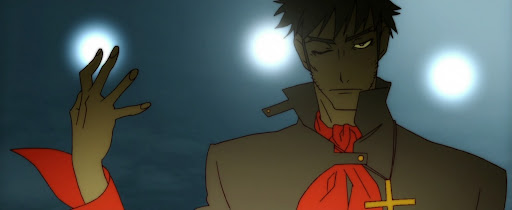 Although it's sad some characters of Bakemonogatari characters wont be appearing in Kizumonogatari, there are still interesting new faces in the wait.
And of course, seeing Oshino and Hanekawa here again is more than enough for me. Both are favorites of mine.
All we can do now is wait for the official release date. And let's hope Amazon was right about the listing, too!